Floating and Recreation
Along the Jefferson River Canoe Trail
By Thomas J. Elpel
On this page: Principles of No-Trace Camping | Canoe Rentals | Montana's Stream Access Law
Wildlife and Flowers | Invasive Species Threaten Campsites | Winter Recreation
Caution: Outdoor recreation is potentially hazardous, and you could be seriously injured or killed while recreating along the Jefferson River. The information included on this website does not cover all possible hazards and cannot replace sound judgement and good decision-making skills. Only you can responsible for your own actions and safety. The Jefferson River Chapter / Lewis & Clark Trail Heritage Foundation is not liable for your safety.
The Jefferson River Canoe Trail retraces by water an essential segment of the Lewis & Clark National Historic Trail along the entire length of the Jefferson River in southwest Montana.

The Lewis and Clark Expedition towed their dugout canoes up the Jefferson River in 1805 in search of a navigable water route to the Pacific. Most present-day travelers will prefer to follow the trail in reverse, floating down the Jefferson River in search of fun and fishing. The Jefferson River Canoe Trail is suitable for half-day, all-day, or multi-day float trips. Only non-motorized watercraft are allowed. The entire length of the river is Class I water, suitable for beginning paddlers, except during runoff season in spring.

The trail is managed by the Jefferson River Chapter of the Lewis & Clark Trail Heritage Foundation. The Chapter has produced conservation and recreation maps of the Jefferson River Canoe Trail showing all state, BLM and Forest Service lands along the river, as well as conservation easements, formal and informal fishing access sites and hiking trailheads, and Lewis & Clark campsites.

The entire trail can be floated at a fast pace, paddling down river in three to four days, or at a slower pace, paddling half days to experience more of the available backcountry campsites and riverside activities along the way.


Camping is allowed on BLM lands along the river, as well as within the ordinary high water mark, as allowed for by Montana's Stream Access Law. BLM lands suitable for camping are marked as Canoe Trail campsites on the maps.

The Jefferson River Canoe Trail is a "no-trace" water trail. Use the Canoe Trail Maps to locate suitable campsites where public use is allowed, then apply appropriate backcountry etiquette to leave the area as pristine as you found it.

Be especially wary of downed trees in the water, called "sweeps". The force of the river moving through the branches can trap a person under water even with a life jacket on. Each year several people die floating on Montana rivers, mostly during the spring runoff, so make sure you scout the river ahead of time and know what you are getting into.

Low water in mid- to late-summer may require extensive dragging of watercraft over shallow riffles. Be sure to plan on longer float times when the water is low, and some sections may not be floatable at all during extremely low flows.

Before you Go
Be prepared. Ask questions about current river conditions, and be sure to carefully scout the Parson's Bridge Diversion Dam, if you will be traveling that part of the river. Conditions throughout the river fluctuate considerably from year to year.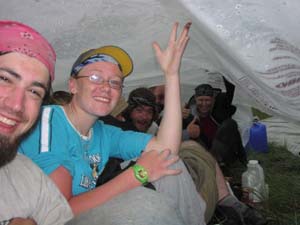 Wear your life jackets. Montana law requires that a watercraft must have a suitable flotation device for every person on board. Children under twelve must wear life jackets at all times when on the water. We recommend that adults wear life jackets at all times as well; it sets a good example, and you won't get separated from it in a sudden accident.

Be prepared for the weather. Montana is a land of extremes, and a pleasant day can quickly change to severe conditions with scorching heat or frigid rain or even mid-summer snow storms. Bring sunblock and layers to protect exposed skin. Bring warm and dry clothes, and make sure you can keep them dry until you need them. Bring a quality rain poncho or tarp for wet weather.

Bring lots of drinking water, and be sure to drink it. Dehydration is a concern at any time of year. You may not feel thirsty when exercising in cool, damp weather, or when playing in the water in hot dry weather. Under some conditions you may need to drink 1 1/2 gallons or more of water per person per day. Remember, if you are not peeing, then you are not drinking enough!

Bring a first aid kit and a cell phone, if available. Pack cell phones and cameras in watertight bags attached to the watercraft.

Pack smart drinks and foods with minimal packaging, and be prepared to haul out any trash you generate. The Jefferson River is mostly a clean river, but there is occasional rubbish along the banks. Please bring a trash bag and pick up anything that has been left behind.

Plan your shuttle in advance, so you have a way of getting back to your vehicle, and don't take on more than you can in the allotted time.

And finally, please volunteer time or money to help guarantee the future of the Jefferson River as a quality place for all to enjoy. Together we can make a difference!
---
Principles of No-Trace Camping
Leave the land as Lewis and Clark would have found it 200 years ago
(Adapted from the 7 Leave No Trace Principles from the Leave No Trace Center for Outdoor Ethics)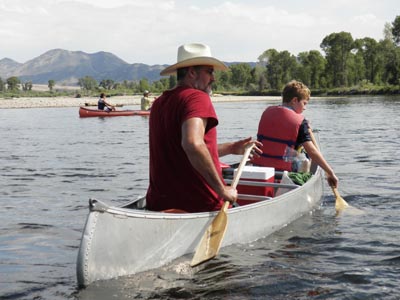 Please do your part to leave the Jefferson River as natural and pristine as Lewis and Clark first encountered it 200 years ago. Leave no trace of your passing so that other explorers can feel as if they are first ones to come this way.

Plan Ahead and Prepare
* Know the regulations and special concerns for each place you visit. Lands along the Jefferson River fall under several different federal, state, and private jurisdictions.
* Prepare for extreme weather, hazards, and emergencies. Always wear life jackets, and keep in mind that hypothermic situations are possible at any time of the year in Montana.
* Schedule your trip to avoid times of high use, but make sure there is enough water to float the river.
* Visit in small groups. Split larger parties into groups of 4-6 at campsites.
* Repackage food to minimize waste, and please bring a garbage bag to pick up any trash left behind by others.

Travel and Camp on Durable Surfaces
* Durable surfaces include established trails and campsites, rock, gravel, dry grasses or snow-sites that will not be damaged by use.
* Good campsites are found, not made. Altering a site is not necessary.
* Protect riparian areas by camping at least 200 feet from lakes and streams.
In popular areas 1) concentrate use on existing trails and campsites, 2) Walk single file in the middle of the trail, even when wet or muddy, 3) Keep campsites small. Focus activity in areas where vegetation is absent.
* In pristine areas: 1) Disperse use to prevent the creation of campsites and trails, 2) Avoid places where impacts are just beginning.


Dispose of Waste Properly
* Pack it in, pack it out. Inspect your campsite and rest areas for trash or spilled foods. Pack out all trash, leftover food, and litter.
* To wash dishes, please carry water 200 feet away from the river and use small amounts of biodegradable soap. Scatter strained dishwater.
* Use a portable toilet to pack out human waste, or bury solid waste in cat holes dug 6 to 8 inches deep at least 200 feet from water, camp, and trails. Cover and disguise the cat hole when finished.
* Pack out toilet paper and hygiene products or use natural toilet paper alternatives such as leaves or smooth stones.

Leave What You Find
* Preserve the past: examine, but do not touch, cultural or historic structures and artifacts.
* Leave rocks, plants and other natural objects as you find them. If you harvest wild edible plants or mushrooms, do so sustainably, taking only a few and leaving the rest to propagate.
* Avoid introducing/transporting non-native species.
* Do not build structures, furniture, or dig trenches.


Minimize Campfire Impacts
* Campfires can cause lasting impacts to the backcountry. Use a lightweight stove for cooking and enjoy a candle lantern for light.
* Where fires are permitted, use established fire rings, fire pans, or mound fires, and keep fires small. Only use sticks from the ground that can be broken by hand.
*Do not dispose of any trash other than paper and cardboard in the fire.
* Burn all wood and coals to ash, put out campfires completely, then scatter cool ashes.
* Dry conditions and sudden high winds along the Jefferson River can be a dangerous combination. A small fire can blow up into a major wildfire in a matter of minutes. Avoid using campfires in dry conditions, or keep a shovel and bucket of water handy for an immediate response if you do have a fire.
* Keep in mind that if you do accidentally start a fire, you may be required to pay for the expense of putting it out!

Respect Wildlife
* Control pets at all times, or leave them at home.
* Never feed animals. Feeding wildlife damages their health, alters natural behaviors, and exposes them to predators and other dangers.
* Protect wildlife and your food by storing rations and trash securely.
* Avoid wildlife during sensitive times: mating, nesting, raising young, or winter.

Be Considerate of Other Visitors
* Respect other visitors and protect the quality of their experience along the river. Take breaks and choose campsites away from others to allow them their privacy.
* Let nature's sounds prevail. Avoid loud voices and noises, and leave radios at home.
---
Canoe Rentals
Rent a Canoe and Float the River!
The Canoeing House can help individuals and groups plan canoe camping trips. The staff at the Canoeing House orients canoers to the water. Including a guide in your plans may help visitors better understand the water to be floated including launch areas, camp sites, and landing access. Shuttle service is available for those with their own canoes or those renting canoes from the Canoeing House. With 60 acres and a private landing on the Jefferson River, visitors park at the Canoeing House and are shuttled up river for 2 to 6 hours of scenic day canoeing or kayaking. While many paddle just for a day, others prefer canoe camping or guided trips. Canoes can be rented from Al Anderson at the Canoeing House, 11227 US Hwy. 287, Three Forks, Montana 59752, 406-285-3488.
---
Montana's Stream Access Law
Rights and Responsibilities of Landowners and Recreationists
Montana's Stream Access Law was passed by the Montana legislature in 1985 after a landmark Montana Supreme Court case determined that our rivers and streams were open to public use up to the ordinary high water mark. The Stream Access Law helped to define the rights and responsibilities of landowners and recreationists. But note that the law does not apply to lakes or to man-made diversions, such as ditches.

Recreational Use
While the land under the water may belong to a private individual, the public has a right to use it for water-based recreational purposes. Recreational use includes fishing, hunting, swimming, floating, boating and other related or incidental uses, such as camping when suitable alternatives are not available. Merely hiking down a riverbed does not constitute recreational use of the water, and therefore does not fall within the scope of the law. Similarly, recreational use of dry streambeds isn't covered by the law either. For these activities, or other uses not directly related to the water, such as riding all-terain vehicles, the user must obtain permission from the landowner.

The Ordinary High Water Mark
The ordinary high water mark is the line that water impresses on the land by covering it for sufficient time to cause different characteristics below the line. This nebulous definition is open to some interpretation.
Sand and gravel bars, devoid of vegetation from repeated flooding, are clearly within the high-water mark. Farm fields and flood plains next to streams, on the other hand, are considered to be above the ordinary high water mark. Other zones between the gravel bars and farm fields may be more difficult to determine. Willow thickets, plus certain grasses and sedges, often grow on older gravel bars that remain below the ordinary high water mark. Pay attention to your local rivers and streams to see how high the water comes up in ordinary years, and use your observations to guide your judgement on similar waterways throughout the state.

Access to Rivers and Streams
The Stream Access Law allows recreationists to use Montana's rivers and streams, but does not allow them to trespass across private property to reach those waterways. Access to our rivers and streams can be found at state Fishing Access Sites, other state and federal lands (unless regulated otherwise), as well as within state or county road right-of-ways at bridge crossings. However, access at some bridges may be restricted for public safety, or where the establishment of the right-of-way did not allow access to the water.

Portaging Around Obstacles
The Stream Access Law allows water users to go above the ordinary high water mark if necessary to portage around artificial barriers, but must do so in the least intrusive manner possible, avoiding damage to the landowner's property and violation of his or her rights. Artificial barriers include any man-made object in or over the water that totally or effectually obstructs the recreational use of the surface water. The law does not address portaging around natural barriers and does not make such a portage either legal or illegal.
If a landowner puts a fence or other structure across a stream, such as a float-over cable or a float-through gate, and it does not interfere with the recreational use of the water, the public does not have the right to go above the ordinary high water mark to portage. In all cases, recreationists must keep portages to a minimum, and should realize that landowners may place fences and other barriers across streams for purposes of land or water management or to establish land ownership, if otherwise allowed by law.

Camping within the Ordinary High Water Mark
The Stream Access Law allows for overnight camping within the ordinary high water mark on the states larger rivers, including the Jefferson, but only when camping is considered necessary for the enjoyment of the water resource AND it is done out of sight of, or more than 500 yards from, any occupied dwelling. Any camping done within sight of or within 500 yards (whichever is less) of an occupied dwelling requires landowner permission.
If you must build a fire, choose a safe location, and if possible, use a fire pan or an existing fire ring. Attend to the fire at all times and be sure it is completely out and reclaimed to its natural condition before leaving. Remember that you have no right to gather firewood above the ordinary high water mark.

Hunting
The Stream Access Law allows for waterfowl hunting within the ordinary high water mark, but does not allow big game hunting, hunting of nongame or predators, or trapping of fur-bearing animals, without landowner permission. For waterfowl hunting, keep safety in mind at all times. Do not discharge firearms near dwellings or livestock, and ask permission to retrieve game from above the ordinary high water mark. Permanent duck blinds, boat moorage or other permanent objects are not allowed without landowner permission. Seasonal blinds and temporary boat moorages are allowed on larger rivers like the Jefferson, but only if required for enjoyment of the water resource, and only if placed out of sight of, or more than 500 yards from occupied dwellings.

Liability
The legislature has limited the situations in which a landowner, manager, or tenant may be liable for injuries to people using a stream flowing through their private property, such that they are liable only for acts or omissions that constitute "willful or wanton misconduct."

Beyond the High Water Mark
Private lands above and beyond the ordinary high water mark may be available to public use unless designated otherwise by landowners or managers. According to Montana trespass legislation, the public has the privilege to enter or remain on private land by the explicit permission of the landowner or manager, OR because the landowner has chosen not to post a notice denying entry to the land.
Until recent times, most Montana landowners have chosen not to post their land, and many farmers and ranchers are still glad to see responsible people fishing along the bank. Keep in mind that even where private property is not posted, it is still good policy to ask permission to use it.
Notice denying entry must consist of a written notice or of notice by painting a post, structure, or natural object with at least 50 square inches of fluorescent orange paint. In the case of a metal fence post, the entire post must be painted. This notice must be placed at each outer gate and at all normal points of access to the property and wherever a stream crosses an outer boundary line. Where permission has been given to enter posted property, the landowner can revoke it at any time by personal communication. Please do not provoke landowners. There are too many "No Trespassing" signs already.

Courtesy and Respect
There was a time when Montanans could hike, fish, hunt, and camp almost any where they wanted, on public and private lands alike. Recreationists respected the land and landowners were generally glad to see people out having a good time engaged in constructive activities.
But some incoming landowners, unaware of Montana's tradition of openness, posted their lands to keep people out. A few recreationists also abused the privileges of using private lands. They cut fences, drove through pastures, and trashed the land. The result of this lack of respect was that in the span of about twenty-five years, Montana changed from being a culture without boundaries to a culture where nearly everything is posted.
To retain our remaining privileges of using private lands, and to regain the privilege of using lands that have been closed, recreationists must demonstrate good stewardship and courtesy towards landowners at all times. Please 1) respect the rights of landowners, 2) ask permission before straying above the high water mark, 3) leave all fences intact, 4) control your pets, 5) leave no trace of your passing, and 6) thank the landowners for being so accommodating if you happen to meet them in person.
By respecting private property, recreationists can earn a mutual respect, and maybe one day, when the "No Trespassing" signs decay and fall off the fences, landowners may not be in such a hurry to put them back up.
---
Wildlife and Flowers
See and Experience More on the River
The Jefferson River has been described by some as being like an African safari, with its great abundance of wildlife, wild birds, and wildflowers. The Jefferson has all the right ingredients to with lots of water, swamps, sloughs, cottonwood groves, meadows and fields. Diversity of habitat allows for diversity of wildlife, and you will find just about everything along the river from painted turtles and rattlesnakes to sandhilll cranes and yellow warblers, beavers and otters, foxes and coyotes, deer and moose,-even the occassional black bear.

For optimal wildlife viewing, try getting out on the river as early as possible, the closer to sunrise the better. Paddle quietly and keep your voices down. You may be amazed at how much wildlife you will see.

Keep in mind that every person will experience the river in a unique and different way, in a large part due to background experiences. A geologist will see the river in a very different way than a botanist, an entomologist, a fly fisherman, a tracker, a historian, or a bird expert. For example, a geologist might read the story in the hills, recognizing large scale events covering hundreds of millions of years of sedimentary, igneous, and metamorphic geologic activity. Every stone in the river will tell a different story about the past.

Meanwhile, the fly fisherman might be attunded to the insects in and around the water, noting subtle differences in the river to know the best places to land the right kind of fly to hook a big brown trout.

A tracker might notice the passing of a mink or raccoon in the mud along the shore, or note the perch of an owl by the remains of the mice in the owl pellets on the ground below.

A person who doesn't have much experience as a naturalist may not find the river that interesting, beyond the great scenery and the occassional surprise that jumps out as you paddle by. Nature is a lot like wallpaper. It makes a pretty background, but not the sort of thing you pay much attention to. But the more you know about nature, the more you will see and experience along the way. With practice, it is even possible to learn to interpret the language of the birds to know what is happening beyond your line of sight.

That is how the whitetail deer always seem to know you are coming through the woods when you haven't made any sound. The deer pay attention to the alarm calls ofthe birds. A robin, for example, will squawk and fly straight up when people are walking through the woods. That is a different alarm call than it gives for other threats in the woods, such as a hawk flying overhead. The deer are very familiar with the different alarm calls of the birds, so they can know you are coming long before they see you. You too can learn skills such as these to enhance your experiences in nature. It all starts with the basic field guides, or outings with trained naturalists, to help you identify the tracks, flowers, birds, bugs, etc. that you encounter. Just looking for things to identify will help you to tune in more to the world around you, to see and hear more than you would have before.

At first it may seem like a bit of work to identify things you know nothing about, but success breeds success. The more successes you have, the easier and more fun it becomes to identify and learn about more rocks and trees and birds and bugs. And the more you know about nature, the more familiar it becomes, until seeing a downy woodpecker, or finding a morel mushroom, becomes an experience like running into an old friend. You've known them and missed them, and you are glad to see them again.

The sad reality is that we are losing plant and animal species to extinction every day, and scientists predict that we may wipe out half of all life on earth this century. This isn't just a problem that belongs to someone else in some other part of the world. It is happening all around us, with every road and house that cuts into wildlife habitat.

Equally tragic is the fact that few people would notice the difference if we lose half of all life on earth, since few people know what is around them right now. But when you learn about nature, you begin to discover a secret world that has always been right in front of you. You notice more, and when you notice more, you ultimately care more, and that is the key to making a real and tangible difference to sustain our wildlife and wild places for future generations to discover and appreciate in their time. So get out the field guides and get on the river, and experience it in a way you never have before!
---
Invasive Species Threaten Campsites
Help "pay for your stay" by pulling knapweed along the way
Imagine for a moment that as a child you lived near an open field and a creek, and every day you took your dog there for a walk. You liked to watch the cows and the deer and you fished in the creek. But then you grew up, moved away, got a job, and raised a family. Before you realize it twenty years have past, and you are reminiscing about your childhood years spent playing in the field. So you load the kids and their dog in the car and take them back home to show them your old haunt.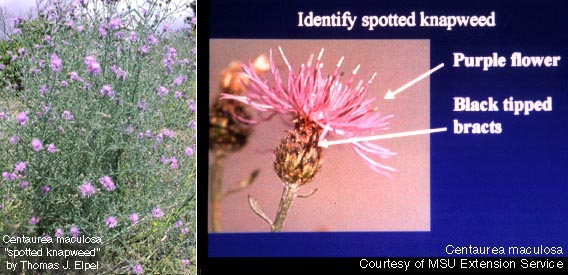 But amazingly, the field is full of scraggly-looking plants, and the soil is half-barren. There are only a handful of cows in the field and the deer are nearly gone. The creek is silted-up with soil eroded off the land, and try as you may, the fish just don't seem to be biting-because they are mostly gone too. You gather up your kids and dogs at the end of the walk, and everyone has scratchy seeds stuck into their clothing or fur.

This imaginary scenario is all too real. Invasive foreign weeds spread fast, crowding out native plants, reducing forage capacity for stock and wildlife, and increasing soil erosion. The economic viability of the land is nearly destroyed, and the recreation opportunities are greatly diminished. We cannot take for granted that the landscapes we knew as children will still be there for our own kids. Every day across the U.S., invasive weeds spread to over 4,600 new acres of public lands. The impact to private lands is equally staggering.

The population of any living plant or animal will grow at an explosive or exponential rate, if given the ideal habitat. Invasive weeds are usually not a problem in their native lands where they have co-evolved with other plants, but they have little competition here in the New World. Spotted knapweed for example, forms a relationship with a soil fungus that enables the plant to steal carbon away from nearby grasses, reducing their ability to compete. According to research at the University of Montana in Missoula, grasses that evolved with knapweed were able to adapt and survive. Our native plants did not have the opportunity to develop defensive mechanisms, so whole ecosystems are being wiped out by the invaders.

River systems are especially susceptible to weed problems, since the seeds float downriver to colonize new lands. Leafy spurge has already become firmly established along the entire length of the Jefferson River. Unfortunately, it has a deep and spreading root system, so pulling it has little effect. However, thanks to Todd Breitenfeldt and his science students at Whitehall High School, recent releases of biological controls such as the spurge hawk moth and leaf spurge flea beetles, show promise for longterm management to keep leafy spurge in balance in the ecosystem.

One of the biggest threats to Jefferson River ecology is from spotted knapweed. Knapweed arrived on the west coast in 1893 and quickly spread across western states. By 1920 the plant was well established in several infestations near Missoula, and it has since spread to 5 million acres across the state (literally billions of plants). Knapweed continues to expand explosively across the landscape because there is still suitable habitat to be colonized. Spotted knapweed costs our state economy an estimated $42 million per year already and could cost us as much as $155 million per year, if expanded over its entire range. Along the Jefferson River, emerging patches of knapweed threaten to reduce wildlife forage while turning nice recreational sites into scratchy weed patches.

Spotted knapweed is colonizing sand bars up and down the river and spreading to the adjacent dry hills. But there is no need to let the weed situation get out of control. All it takes is a little bit of effort from everyone that uses the river. Students at Whitehall High School are already releasing root boring weevils to help control knapweed.

Recreationists can help control spotted knapweed too, by pulling a few knapweed plants along the way. We ask you to "pay for your stay" by pulling ten knapweed plants per person per day. Start by looking for the purple blossoms when the plants are in bloom, but then study the leaves and learn to identify it before the flowers come on. Any weeds pulled before blooming can be dropped and left. Those that are in bloom, or have already gone to seed, should be hauled out to the trash in bags, being careful not to spread seeds along the way. Don't wait until the end of the day to pull knapweed at camp. Pull them when you find them at any stop along the way. If we all do a little, then we can make a big difference.
---
Winter Recreation
Hiking and Horseback Riding: Remedies for Cabin Fever
Ever have that feeling like you just want to get out and go for a hike, but all the forest trails are snowed in for the winter? No need to be snowed in yourself. Get yourself and the kids out of the house and go exploring.

In mid-winter or early spring, when you cannot get up in the mountains, there are still many great hiking and horseback riding opportunities in the rolling hills closer to the river. It doesn't snow as much in the lower hills, and any snow that falls tends to melt off quickly.

Check the Jefferson River Canoe Trail Maps for the hiking and riding symbols that indicate good sites to access public lands. Don't expect developed trails or trailheads; these are undeveloped access points to some surprisingly interesting nooks and crannies on public lands.

It is part of our mission to continue enhancing trails opportunities along the Jefferson River, ultimately connecting many recreational sites by land as well as by water. We are especially interested in collaborating with private landowners to re-open portions of the old Chicago-Milwaulkee railroad bed for walking and biking. If you are a landowner willing to work with our organization, or a person with some possible leads, please contact us at:
Jefferson River Chapter LCTHF
PO Box 697
Pony, MT 59747
E-Mail